Last week, certified mechanics, engine performance experts, and professional fishermen visited Capitol Hill to instruct lawmakers on the finer points of ethanol use in marine engines.
At a briefing hosted by Fuels America, the experts dispelled some of the oil industry's favorite myths about modern engines and explained the importance of biofuels in protecting the environment, preserving America's energy security, and providing a high-octane boost to race boats.
The event was timely, as the White House Office of Management and Budget (OMB) is expected – sometime this month – to complete its review of the Environmental Protection Agency's proposed blending requirements for ethanol and advanced biofuels in 2017. Under the Renewable Fuel Standard, the EPA is obligated to ensure that America's fuel mix continues to lower our dependence on oil, keep our air clean, and combat climate change. And that makes the RFS vital to boaters, racers, fishermen and mechanics around the country.
Keith Holmes provided his perspective as President and Owner of CK Motorsports in Nunica, Michigan and a Certified Mercury Marine Racing Technician. One of his slides helps illustrate the point that ethanol is an ideal fuel for race craft: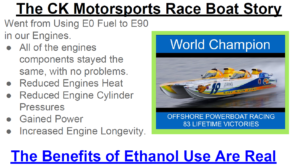 Holmes: "Ethanol burns cleaner and cooler. Since the introduction of E10, we find that many engine parts have a 25 to 50 percent longer lifespan. The National Boat Racing Association exclusively uses E10 for all their races."
Brian Sowers provided a sportsman's perspective as Co-Host of Crappie Masters TV, covering the Crappie Masters All American Tournament Trail based in Clinton, Missouri: "I want to take my grandkids fishing someday. That means having clean water and clean air."
Marc Rauch, Executive Vice President and Co-Publisher at the Auto Channel, based in Louisville, Kentucky: "As an oxygen booster, ethanol replaces toxins like MTBE, which are notorious for contaminating water supplies. And it reduces CO2 emissions by 34 to 100 percent or more compared to gasoline."
Finally, a fuel retailer from the shores of the Minnesota River and Prior Lake explained why his customers have embraced ethanol blends for marine applications.
Joel Hennen, President and Owner Hennen's Auto Service: "Companies like Kawasaki, Mercury Marine, OMC, Pleasurecraft, Tigershark, Tracker, Honda, and Yamaha all approve the use of E10 in their engines. The labels are clear, and whether customers have a flex fuel vehicle or a race boat, we make it easy to pick the most affordable option with the lowest emissions."