Advocates from across the nation arrived in Kansas City recently to testify at the Environmental Protection Agency's (EPA) one and only field hearing on proposed 2017 targets under the Renewable Fuel Standard (RFS). Out of about 160 registered speakers, nearly 90 percent urged the EPA to make more ethanol and other biofuels available to consumers in next year's fuel mix.
Some of the renewable fuel sector's top champions also hosted a press conference to remind policymakers and the public how the RFS works to protect the environment, preserve America's energy security, and provide consumers with more affordable options at the fuel pump. Watch the video here
Nebraska Governor Pete Ricketts kicked things off, saying, "A strong RFS means more jobs here at home, greater energy security, and a cleaner environment. The biofuels industry supports more than 852,000 American jobs and creates fuel we need to help our country become energy independent. It also stimulates investments in states like Nebraska, where we are on the forefront of research, development, and infrastructure for first- and second-generation biofuels."
Later in the program, Chip Bowling, president of the National Corn Growers Association, had some fun, noting his own nickname – King Corn – before introducing Iowa farmer Chris Soules, who many called Prince Farming during his stint as The Bachelor on the hit television series.
Chris was quick to capture the crowd, both in the room and on social media: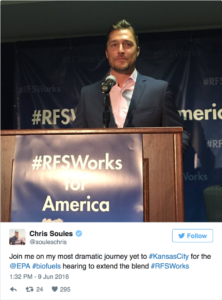 One thing everyone agreed on was that the EPA must increase its 2017 targets. The agency has proposed conventional blending targets at 200 million gallons below statutory levels, as set by Congress.

Bob Dinneen, president and CEO of the Renewable Fuels Association, said, "The EPA's proposed targets would needlessly undermine America's most successful clean energy program. At a minimum, we must hit the statutory levels set by Congress to slash U.S. dependence on foreign oil, reduce greenhouse gas emissions and save consumers money at the pump. From any objective standpoint, the choice should be simple – more clean, American energy and less foreign oil."
To push the EPA in the right direction, biofuel leaders urged supporters, neighbors, and friends to submit comments to the EPA by July 11, when regulators will start writing a final rule.

"Our call to action has never been more important," said Emily Skor, CEO of Growth Energy. "Ethanol is an earth-friendly biofuel that reduces greenhouse gas emissions and displaces chemicals in gasoline that form potent carcinogens when burned. Most importantly, ethanol offers consumers affordable options and a choice at the gas pump. It's vital that the EPA meet the statutory biofuel targets for America's 2017 fuel mix."